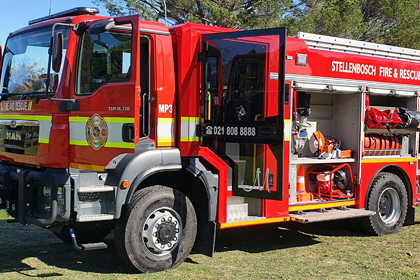 Engine: 326HP/240Kw EURO3 – 1250Nm Transmission: ZF 9S-1310
Marcé body cab with integrated crew cab and equipment lockers. The spacious crew cab provides seating for four crew members including gear and each seating position is equipped with a (BA) Breathing Apparatus seat allowing quick access and fitment of BAs.
The Unique design of the Marcé body or superstructure allows for six spacious lockers that can be easily reached by means of a drop-down step allowing the fire fighter to reach the required equipment. The equipment is safely stored inside the compartments by means of durable aluminium roller shutter doors each fitted with central locking controlled from within the vehicle cab.
The water and foam carrying capacity is 3000L and 300L.
The compact PTO driven multi pressure rear mounted fire pump has a maximum low pressure flow of 6000 litres per minute and maximum high pressure flow of 770 litres per minute. The maximum low pressure is 17 bar and maximum high pressure is 54.5 bar.
The pump is also fitted with two very unique foam systems namely a (CAFS) Compressed Air Foam system and electronic (ATP) Around The Pump foam system.  
A Compressed Air Foam System simultaneously attacks all sides of the fire triangle.
• Penetrates and soaks the fuel
• Decreases the fuel's exposure to oxygen
• Adheres to surfaces to reduce heat
Attacking a fire using CAFS reduces the amount of time to knockdown a fire by as much as 5 times over plain water. This equates to less fire fighter exposure, less water usage, less harmful runoff, and less required overhaul. There are multiple advantages for the front line fire fighter. CAFS helps keep them safer in the hostile environment of a fire scene and reduces attack times, reduces flashover, reduces hose line weight, and reduces exposure and fatigue.
The CAFS system ..balancing the water pump, foam system, and air system so they work effectively together. The CAFS procedure is simplified by fully programmable presets allowing the fire fighters to set CAFS configurations for numerous fire scenarios repeatedly with a single touch. The simplified operation allows changes to the CAFS consistency that is available at the push of a button. A twin-screw rotary air compressor delivers air flow volume of 200 SCFM (in metric terms – 5760 l/min) to match the pump.
The Smart ATP foam system is an intelligent, automated around-the-pump foam system that delivers high-volume, precise foam for every fire situation therefore eliminating the problems with traditional manual systems. The Smart ATP automatically regulates the foam ratio control valve, reducing the opportunity for operator error and wasted foam. Foam ratio percentage can be adjusted from 0.1% to 10% suitable for ARFF, Industrial, structural and Wildland Forestry fire fighting applications.
The vehicle is also equipped with an extremely durable deck monitor (water cannon) that is both wired and wireless providing improved performance and operator control. The maximum flow rate is 5000LPM. The monitor is programmable for STOW, DEPLOY and OSCILLATION, programmable travel limits and keep out zones as well as travel speeds. The monitor is mounted on a electrical actuated extender designed to provide better clearance for the monitor which allows for a wider coverage range and addresses firefighter safety concerns. The Extender deploys in 10 seconds and extends a full 457mm.
In addition to the two CAFS outlets, two water outlets and monitor outlet there is also two electric rewind hose reels capable of reaching pressures in excess of 45bar. Each hose reel is fitted with 45m long high pressure hose and an adjustable pistol grip firefighting nozzle.