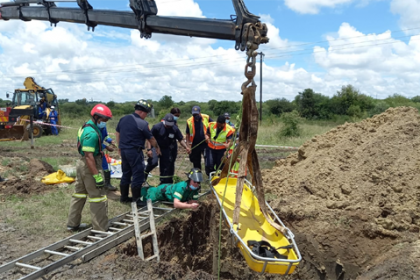 Issued by the City of Tshwane Emergency Services Department.
The City of Tshwane Emergency Services Department responded to a trench collapse incident near an Eskom substation close to the Traffic Department in Hammanskraal on 1 February 2021 at approximately 11:30. Firefighters and paramedics arrived at the scene to find a 29-year-old male patient still inside a three-meter-deep trench.
According to information received at the scene, the patient, a worker for a company contracted to Eskom, was working inside the trench when part of the trench wall collapsed on his leg. He sustained a left femur fracture but was not trapped upon the arrival of emergency services.
Firefighters and paramedics had to use a hydraulic crane from a truck to rapidly evacuate the patient from the trench. The patient was airlifted to Netcare Milpark Hospital by a Netcare helicopter at around 13:25 after receiving treatment from paramedics at the scene.
Report a fire or life-threatening emergency on 107 or alternatively call 012 358 6300/6400.